Retaning Walls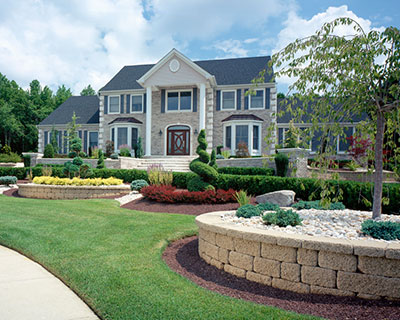 Building retaining walls is an important part of landscape design as they define boundaries and add aesthetic appeal. In addition, they provide stability to your garden or backyards. Without proper and strong retaining walls, the soil in your yard could erode and wash onto the streets during wet weather. Your backyard or gardens could also lose their structure and shape.
High Grade Retaining Walls
Retaining walls require a certain amount of skill to build and they need to be strong enough to stand the test of time. We at Quality Landscape Construction Inc, have over 30 years of experience constructing resilient retaining walls in Visalia, California. Our clients in Farmersville, Exeter, Tulare, Lindsay and Dinuba have all been satisfied with the quality of our construction and the work ethics of our team.
Over the years, we've built a large client base that extends up to the cities of Kingsburg, Hanford, Orange Cove, Reedley and Corcoran as well. Our years of satisfactory service have made us the leading brand in the industry. We always use good quality retaining wall materials to ensure that the walls stand for many years to come.
Leaders in Retaining Wall Design
No matter what your requirements are, we have the skills to achieve it. If you need to build a garden retaining wall, our teams of experts are ready to handle the task. If you need a retaining wall that is over four feet tall, we have qualified engineers to help design a strong wall that would stand for many years to come.
Concrete Walls: Concrete retaining walls are becoming increasingly popular for large commercial properties where they prove more economical. Unfortunately, concrete walls require a bit of embellishment to look good and enhance the design of your property. They are, however, a good option for those who wish to construct a large wall on a tight budget.


Brick Walls: Nothing really can compete with the beauty of brick retaining walls. They have a rustic appeal and yet can fit into any design concept easily. Brick walls are the most preferred walls among residential property owners because of their visual appeal.


Stone Walls: Stone retaining walls are perhaps the most expensive option. However, stone walls are also one of the most durable retaining walls and they can be very strong as well. Moreover, they are beautiful and can blend in naturally with any design style, be it traditional, rustic or contemporary and modern.


Wood Walls: While wood retaining walls have been around for many years and they blend in more naturally than any other material, they can be hard to maintain. Moreover, wood walls don't last as long as the other options available and its best to use this material in combination with others while building walls.
When it comes to building retaining walls, experience and skill is vital. Our experienced team can handle all your wall requirements and deliver good quality, long-lasting retaining walls. If you have any questions, you can call us at Quality Landscape Construction Inc, 559-733-1311 or fill out this Contact Us form and we will get back to you as soon as we can!