Outdoor Kitchens & BBQ's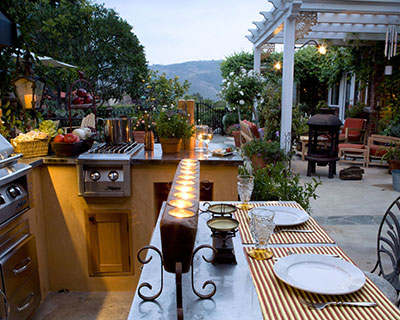 Quality Landscape Construction, Inc possesses unmatched expertise in designing and building outdoor kitchens for residents of Central California. We can install simple BBQ grills to fully furnished kitchen setups with complete amenities and appliance. We can build the kind of outdoor kitchens and BBQ's that clients in Visalia, Tulare, Hanford, Lindsay, Exeter, Kingsburg, Goshen, Corcoran, Lemoore and Strathmore, CA, have always wanted.
If you wish to start your dream outdoor kitchen soon, all you need to do is call us now through our hotline (559) -733-1388. We'd be happy to offer you some of our insights into what amenities should go with your desired kitchen setup.
Outstanding Kitchen Designs
One thing that we're extremely proud of here at Quality Landscape Construction, Inc is our capacity to come up with interesting kitchen design options for our clients. Our outdoor kitchen designs are noted for their high degree of customization based on our clients' desires and needs, as well as the level of aesthetic merit that each design has.
Our team of seasoned designers creates plans based on the clients' needs, budget, and existing property architecture or theme. Even if it is a simple kitchen that we're designing, it is always guaranteed to be attractive and durable once the design has materialized. We can create concept kitchens (customized based on our clients' ideas), large gourmet outdoor kitchens, pre-built kitchens (our ready-to-cook kitchens), and other kitchen types. The possibilities are endless and limited only by budget constraints.
Premium Kitchen Materials and Accessories
One of the secrets to having outdoor kitchens that stand out for their functionality and beauty is in the quality of the materials and accessories used. When you hire us, you can be sure that we will use only the best kitchen products, appliances, and materials to build your dream outdoor kitchen. Among the top kitchen brands that we use in our projects are Anchor, Lynx, Fire Magic, and PCM BBQ accessories. Likewise, we use premium brands for freezers, refrigerators, and other kitchen amenities that client's request.
Meanwhile, many of the materials used for the construction of outdoor kitchens include premium pavers from Belgard, quality granite countertops, and premium hardwood for the roofing (a pergola type). All of the kitchens are installed by our skilled and experienced outdoor kitchen installation team, so clients are assured of their unquestionable durability, beauty, and functionality.
Our company is the only place that you need to go for all your outdoor kitchen needs and concerns. For years, we have been leading the way in creating outdoor kitchens that residents of Central California and nearby locations enjoy. We handle all tasks starting from the design down to the finishing touches. We also create refreshment centers and outdoor entertainment centers for clients who desire them. The best thing about hiring us is that we offer our services at rates that you can afford with ease. No other company in California offers the same perks and benefits that we do, so please call us soon.