Firepits / Fountains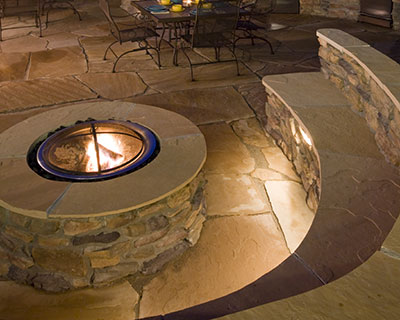 An outdoor fireplace can be a great place to huddle during cool evenings, enjoying some time with family and friends. A fire pit is a fine addition too, working to provide warmth, light and the ambiance. Some people cook on them as well, creating a campfire like environment. Both, fireplaces and fire pits allow you to get out of your house in cooler temperatures and still be warm and comfortable.

Many of our clients have requested us to have these features installed in their landscapes, recognizing just how wonderful they can be to entertain around. At Quality Landscape Construction Inc, we have designed and installed many such fire pits and backyard fireplaces in various residences in Visalia, California, Farmersville, Exeter, Tulare, Lindsay and Dinuba.

With the rising popularity of outdoor living areas, the demand for these elements has also increased and we're getting more projects in Kingsburg, Hanford, Orange Cove, Reedley and Corcoran as well.
Fire pits or Fireplaces?
When our clients decide to install an outdoor heating feature, they're often torn between which one to install. There are advantages and disadvantages to both and it mostly depends on the personal preference of the client. However, there are a few points that can sway your decision to either side.
Setting: When you decide to build a fire pit or a fireplace, the first thing that comes to mind is how it would affect the overall design of your backyard. The fire pit offers a more social setting where a group of people can gather around the fire and have fun. Fireplaces, however, offer a more intimate setting where you can cuddle enjoy family time.


Environment: If you're a great entertainer and love to have large groups of people as your guests from time to time, fire pits are the ideal choice for you. They offer a campfire like environment. However, if you would prefer a more intimate and cozy gathering of loved ones, fireplaces would be a better option.


Visibility: Patio fireplaces provide 180 degrees visibility while fire pits provide all-around visibility of 360 degrees where you can sit in a circle around the fire pit and see everyone in the group.


Exposure: Fire pits are generally exposed to the elements and will be open to rain, snow and sun all the time. Fireplaces, may however be either in the open or in semi-sheltered spaces, protected from the elements.


View: Fire pits can be unobtrusive, blending in nicely with the design of your patio (though in some cases, they may be the focal point of a yard). They can also be places you can design around, creating a seating area for a group of people. Fireplaces, however, are a centerpiece, something meant to stand out and draw instant attention.
Whether you choose a fireplace or a fire pit, either of them would make great additions to your backyard and your home. If you wish to know more or even get a quote, don't hesitate to call Quality Landscape Construction Inc, on 559-733-1388 or fill out this Contact Us form and we'll get back to you promptly.