Pavers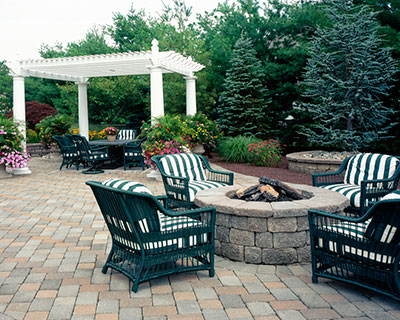 Landscape pavers are the most basic and essential part of your property, be it residential or commercial. It is something that gives your home and property a complete and finished touch. It is also something that allows you to navigate across your property easily, without stepping onto the grass. However, if the paving isn't installed properly, it can lead to a lot of problems and expense down the line.
We at Quality Landscape Construction Inc, have thirty years of experience installing pavers on various commercial and residential properties across Visalia, California. We have also completed various projects in the nearby cities of Farmersville, Exeter, Tulare, Lindsay and Dinuba.
Perfect Paver Installation
With our client base extending up to the cities of Kingsburg, Hanford, Orange Cove, Reedley and Corcoran, we've worked on many different and demanded projects over the years. Our experience and our dedication to quality ensure that every project we finish is up to the standards that our clients have come to expect from us. Our skilled masons know how to lay pavers very well and work done by them is durable and long lasting, serving you well for many years.
Experts in Installing Pavers
Over the years, we have mastered our craft to an extent that our standards of quality have surpassed that of our competitors. Ever since we started working on our first projects in 1980, we've constantly been learning and improving our skills. When you hire our services, you can be in no doubt that you're getting the best landscaping pavers.
Assessment: Even before you hire us, we offer you're a free, upfront estimate through our website. To get a more comprehensive estimate, we visit the site and take the measurements and the general condition of the site into account. We thoroughly assess the site; identify any problem areas so that no unexpected expenses crop up later on.


Thorough Estimate: Once we're done assessing the site, we prepare a complete report for you so that you can get a thorough understanding of the work involved and the expense. We can tailor and alter the plans to fit your budget and ensure that you get the most out of what you pay.


Timeline: When all the details are decided, our team figures out how much time the paver installation would take. We are honest with our clients and ensure that quality isn't compromised just to get the projects done as soon as possible.


Open Dialogue: We keep open the communication lines with our clients at all times, making sure that they know how the project is progressing and if there are any unexpected problems or delays. Our services are personalized to fit the client's needs and requests and it is this personal care that brings our clients back to us time after time.
If you have questions or want to know more about our services, you can call us at Quality Landscape Construction Inc, on 559-733-1311 or fill out this Contact Us form. We will be happy to get back to you as soon as possible.